Bahria Town – Your Modern Lifestyle Destination!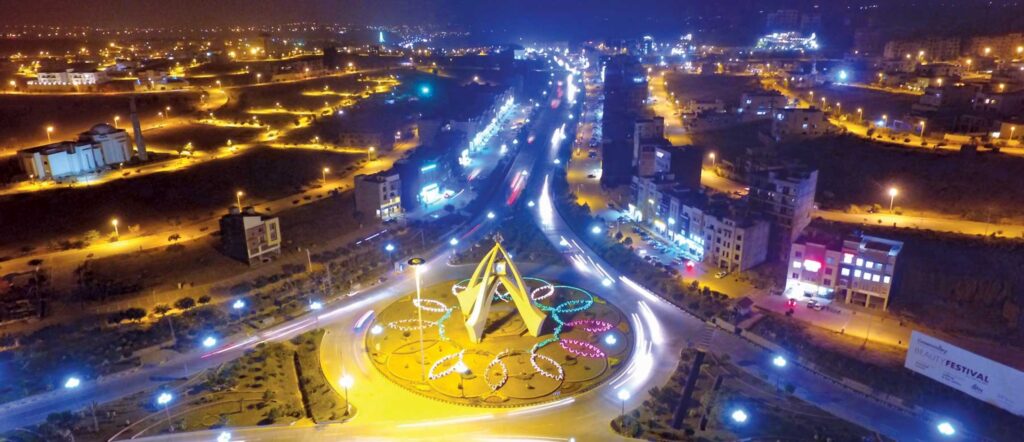 Bahria Town Rawalpindi/ Islamabad is one of the well know society in Pakistan, it unique in a way that it captures the mood of both the cities; the modernity of Islamabad and the historical spirit of the Trade Route city of Rawalpindi. 
A signature valley type landscape defines the inspiration to the master design of this development. This development is like the work of a sculptor, carving the rising hills along with the river into a piece of art; we call it Landscape Artistry! With residential solutions for diverse lifestyles, metro grade facilities, educational, medical, entertainment and recreation opportunities; it has been the trend setter in real estate development across the country.
Whether you are used to living in an apartment community, desirous of building your own dreams or thinking of comfortably moving into a fabulously designed and conveniently laid out home; it has it all for all tastes and financial accesses.
Lifestyle & Facilities
Bahria Town Rawalpindi/ Islamabad is more popular than other housing societies due to the following reasons.
Full Proof Security System
No Load Shedding
High Development Standards
Active maintenance services
Therefore, people who are stricken of security situation in the country and frequent load shedding prefer Bahria Town as the perfect place to live beyond these issues.
Foundation
The owner, founder and CEO of Bahria Town is Malik Riaz Hussain, whose untiring efforts, broader vision and smarter strategies have made him the real estate tycoon within 2 decades. Nobody knew about Bahria Town before 16 years, and today it stands as the largest private real estate developer in Asia.
Development Status
Bahria Town Rawalpindi consists of 8 phases. Phase 1 to 6 lie separate near PWD housing society while Phase 7 and 8 are adjacent to DHA phase 1 Islamabad. These phases consist of different residential sectors, commercial areas, parks, wide roads, attractive monuments, beautifully constructed villas and houses, and clean and healthy environment.
Bahria Town Phase 1 to 7 are fully developed and have a large number of people living there. Phase 8 is the largest phase which is partially developed. Bahria Town Phase 8 consists of different sectors and blocks i.e. Safari Valley which includes Abu Bakar block, Ali block, Usman block, Umer block, Rafi block, Khalid block and Awais block, Lake View Block, Safari Homes, Awami Villas 1 to 6 and Sector A to P. Major commercial area in phase 8 is Commercial Hub which is the center of Safari Valley, and Bahria Town Head Office is also situated here.
Bahria Town Rawalpindi Phase 9 was also launched a couple of years ago and many people had booked plots in it, but this phase was abandoned later and most of the allotees were transferred to Phase 8. Bahria Town is no longer transferring phase 9 plots to phase 8 and the management still have to decide the future of Phase 9.
Community Features
Bahria Town Rawalpindi offers the following unique features in its housing scheme:
International Standard of Construction
Provision of own Hospital, School, Mosque and Parks
Commercial Areas and Sports Facilities around various locations
Hotel, Mini Golf, Restaurants and Shopping Areas
Modern Infrastructure matching with those of modern cities of the world
State-of-the-art Security and Maintenance system
Historical Monuments at various locations
100% Own Power Generation System so No Load Shedding and Underground Supply Lines
2 Rooms Low-Cost Houses on Easy Installments for the Underprivileged i.e. Awami Villas
Bahria Town Rawalpindi Phase 8 Plots
Frequently Ask Questions
Which phase of Bahria town is near Islamabad?
BAHRIA TOWN RAWALPINDI PHASE 2 is a gated community owned, planned and developed by Pakistan-Bahria Town, the pioneers of real estate development. Phase-2 is ideally situated with smooth link to Islamabad Highway, It includes houses and apartment buildings, as well as commercial areas.
How many phases are there in Bahria Town Rawalpindi?
Bahria Town Phase 1 to Phase 7 – Phases 1 to 7 of Bahria Town are fully developed and residents are enjoying a luxurious lifestyle in them.
Is Bahria Town in Islamabad or Rawalpindi?
Bahria Town Rawalpindi is a gated upper-class neighborhood located within the Rawalpindi District; it is part of the Islamabad Rawalpindi metropolitan area.
Which phase is best in Bahria Town Rawalpindi?
Among its different phases, Phase 8 is of prime importance as all other phases in Bahria Town have been developed, handed over and thus property rates there have topped out.
Is it safe to invest in Bahria Town Rawalpindi?
Since Bahria Town Phase 8 Extension is more like files without physical location, Bahria Orchard is comparatively a safe investment option with physical location and development.
Is Bahria Town Rawalpindi legal?
Please note the difference between a Housing Scheme and Land Sub-division. A housing scheme less than 100 kanals is called Land Sub-division, abbreviated to LSD.
What is the total area of Bahria Town Rawalpindi?
The Bahria Town Phase-II,III,V & VI spans on a vast area of 2501 Kanals with over 1384 residential plots on Mouza Kotha Kalan in zone V of Islamabad, while the phase VIII of Bahria Town Islamabad consists of a total of 761.20 Kanal.
Is Bahria Town Phase 8 safe?
Since Bahria Town Phase 8 Extension is more like files without physical location, Bahria Orchard is comparatively a safe investment option with physical location and development.
Final words
Bahria Town Rawalpindi/ Islamabad is the only choice for living of most of the overseas Pakistanis having families in Islamabad and Rawalpindi. The reason for their trust is nothing but the environment, security, features, and facilities they find nowhere else but in Bahria Town. Price is another major factor which is comparatively much lower than CDA, whereas the amenities are much better.
Bahria Town Islamabad