Age-Defying Temptations: Longevity Cakes that Nourish & Delight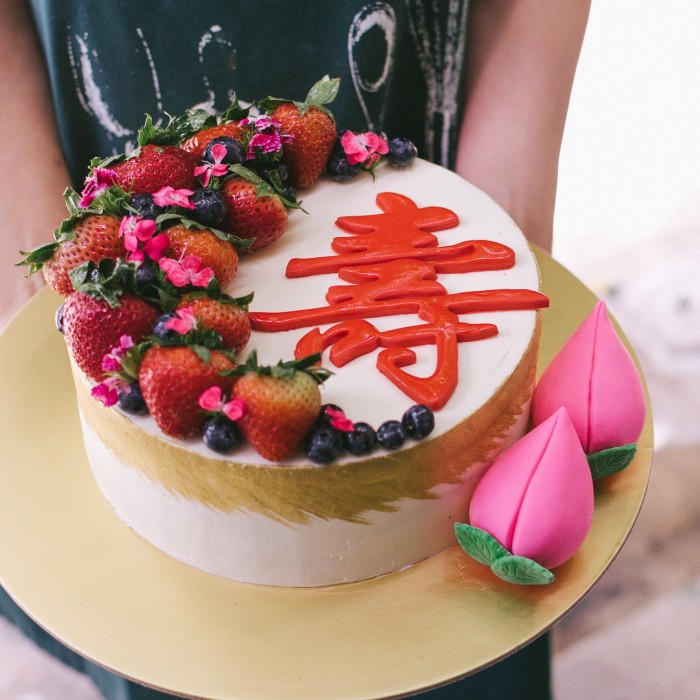 In contrast to western society, which traditionally serves cakes for birthdays, Chinese culture prefers longevity peaches, lotus seed buns. The longevity peach has a peach-shaped crease and is white with some color dye.
According to Chinese folklore, the peaches of immortality, which ripen once in a thousand years, will bestow mankind immortality when consumed, hence it is presented during birthdays. The longevity peach bun is a symbol for the peaches of immortality.
My family kept their Chinese cultural traditions with them when they emigrated to America, which is why longevity pears have always appeared instead of cakes on the occasion of my grandparents' and parents' birthdays.
I used to get cake for my birthdays, but I also always got the longevity peach in addition to the cake. My mother explained the history to me since when I was younger, I had always questioned why.
I've always wanted the longevity peach to appear at my family's birthdays ever since I learned the legend. It's because I hoped that the longevity peach would be comparable to the peaches of immortality and that my family would attain immortality or anything akin to it by eating the longevity peach.
Although the longevity peach is a symbol of immortality in Chinese culture, for me it represents the hope that my family will be able to support me for as long as they are able to.
A Little Background Story
Chinese culture places a high value on respecting the elderly, therefore birthday celebrations for them are quite important. Birthdays over 55 are typically referred to as "Shou" (longevity), particularly multiples of 10 known as "Zheng shou" (integer age of longevity).
Men don't celebrate turning 10 and women don't celebrate becoming 9 since, in southern accents, the words "ten" and "thief" sound the same. The elderly person, who is referred to as the "god of longevity" on their birthday, always arranges the longevity celebration with their offspring or grandkids.
Parents will attend the celebration with family members, younger generations, and friends. Longevity candles, longevity couplets, longevity scrolls, longevity peaches, longevity noodles, and longevity cakes are the traditional gifts.
Long lifespan scrolls with blessings like "Happiness as immense as the water in the eastern sea, and life as long as the pine on the Southern Mountain" engraved on them are known as longevity scrolls and couplets.
The "god of longevity," which is another name for "increasing longevity," receives some noodles from each guest's dish when they eat the longevity noodles. But because "full longevity" denotes completion and the conclusion of the longevity, the bowl cannot be filled.
Celebrating Life's Milestone with Longevity Cakes
So why not celebrate momentous occasions in elegance with a longevity cake, which can be decorated with fresh flowers and mixed berries! As chinese folklore holds that longevity buns which represent immortality, these are excellent gifts to give older people in honor of their advanced age.
Designs For Longevity Cakes in Singapore
Create a basic design in a sketch or discover a cake design you want to use as a starting point for your custom lifespan cake.
Once you've gotten a broad idea of how the cake will look, start considering how you may include certain components that symbolize your loved one's life and personality.
In longevity cakes, the following classic motifs are frequently used:
Flowers
Lotus flowers are a preferred option since they stand for purity, beauty, and long life. Other flowers that are frequently utilized are chrysanthemums, which stand for longevity, peonies, and cherry or plum blossoms, which represent resilience and are used in a red white cherry blossom cake.
Peaches
Another choice is traditional oriental longevity cake, which is covered with shou taos, which is another name for longevity peach or peaches of immortality. The elaborate gold design on this cake, which is made to seem like a cheongsam, further enhances its charm.
Animals
In traditional Chinese culture and beliefs, cranes, in particular, are a symbol of good fortune and long life and are frequently included in longevity cake designs. Other typical animals include tigers, which stand for strength, dragons, which represent power, as in an imperial golden dragon cake, and deer, which represent grace.
Scenes from nature
Since they exemplify the harmony of nature and the balance of yin and yang, landscapes with mountains, rivers, and trees are frequently featured in longevity cake designs.
The Best of All: Longevity Peach Cake
It's very common to serve 3D peach longevity cake on parent or grandparent birthdays. In the Asian culture, we enjoy celebrating the seniors' birthdays at milestone ages such as 60, 70, 80, 90, and 100. Since it resembles Wealth, Health, and Luck to the Birthday Superstar, this cake has always been a hit to bring happiness and luck to the family.
The Peach can be customized with handcrafted fondant cherry flowers, lucky Chinese symbols, golden nuggets, miniature peaches, and more.
This cake will undoubtedly be the focal point of your celebration and provide your guests with excitement and surprises.  This cake is quite popular, so make a reservation at least two weeks in advance.
Why Longevity Cakes?
In addition to their symbolic meaning, longevity cakes provide a number of advantages. First off, these cakes are a better option for people who are concerned about their food intake because they frequently contain healthy components like glutinous rice flour and natural sugars.
Read More: Surprise and delight your guests by adding nautical wedding cakes to your wedding day
Furthermore, longevity cakes often have less fat and calories than conventional cakes, allowing people to indulge without feeling too guilty. These cakes are a lovely way to celebrate and maintain Chinese traditions because they also feature traditional culinary techniques and cultural heritage.
Last but not least, sharing and enjoying Chocolate cake on special occasions strengthens social and familial ties by fostering a sense of community.
Where To Buy the Best Longevity Cakes in Singapore?
Shop extensive selection of previously popular designs by Tings Bakery for hassle-free, inexpensive cakes or create one just for you right now!
They offer a cake for any occasion, regardless of age, ranging from a gravity-defying beer cake for your beer-loving dads to elegant and charming floral cakes for your lovely parents.
Order a custom cake for your special occasions with just a 5-working-day lead time. Before making an online purchase if it is urgent, please contact them. Look no further because they have the perfect cake for your celebration!