Real estate mobile app development: cost & features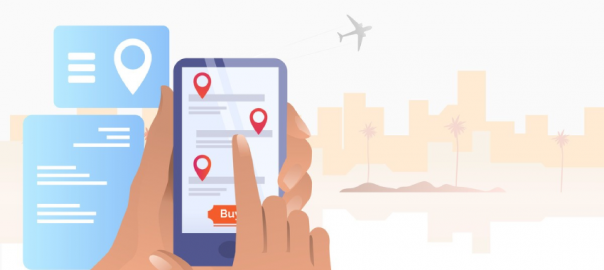 We rely on mobile apps for convenience and efficiency whether it's ordering food, booking a cab or shopping online. The same applies to the real estate industry. Nowadays, real estate mobile app development services are gaining immense popularity among homebuyers, sellers and agents. This is because real estate apps offer a convenient way to access property information and streamline the entire buying and selling process. Let's explore the world of real estate mobile app development, how app features make these apps stands out and the cost involved in mobile app development.
Key Features That Elevated the Real Estate Mobile App
A successful real estate mobile app should cover all the features that fulfill the needs of buyers, sellers and real estate agents. Here are most important of them: 
Property Details
This is the main features of any real estate app. Users should be able to search for properties based on cost, location and other filters. The real estate app should include high-quality property images and property descriptions.  
Mapping
Ingtegrating location in the app allow users to view properties on the map. This gives them a better understanding of the property's location and nearby amentities like market, schools etc. 
Virtual Property Tours
Using 360 degree images and videos provide an immersive experience for potential buyers. This virtual tour feature is becoming very popular in real estate apps. Moreover, adding augmented reality to it allow users how the property will look after furnishing. 
User Account
The app should allow users to create profiles with personal information and preferences. This gives more property recommendations.  
Wishlist Option
Audience using the app should be able to save their favourite properties and set up alerts for new listing or price changes in their preferred areas.  
Loan calculator & Payment Integration
Including this feature in helps users calculate their monthly mortgage payments. Thus, making it easier for them to assess affordability.In addition, enabling secure payment transactions for services like agent fees. 
Document Management
The app should include a secure space for users to upload and manage important documents such as contracts, inspections and appraisals can streamline the buying, selling and transaction process.  
Instant Messaging
This In-app messaging feature between buyers, sellers and agents facilitates communication and negotiation.  
Social Media Integration & Trends
Users should be able to easily share property listing on social media platforms. This increases exposure for properties, provide real-time market data which helps in making informed decisions. Furthermore, reviews on social media can help build trust and credibility. 
How Cost is Estimated For Real Estate Mobile App Development?
The cost can vary depending on the real estate app development company, when it comes to app development. So, its crucial to understand what factors drive these costs. Below are some of the major factors involved. 
App Type
The type of real estate app you want mainly impacts the cost. The main categories are listing apps, property management apps and augmented reality apps. Each has its own unique features and complexities, which affect the mobile app development services cost. 
Platform
Real estate apps can be developed for iOS, Android or both. The choice of platform significantly influences the cost. Developing app for both platforms can be more expensive. 
App Design and Interface
A well-designed app with intuitive user interface is crucial for user engagement. Invest in a real estate app development company with expert designers for creating a user-friendly app.  
Features and Functionality
This is the main factor affecting the cost of mobile app development  services. The more features in the app, the higher will be the development cost. Adding features like property search, virtual tours and filter require more time and resources. 
In brief, successful real estate app requires investing in advanced features that cater to needs of buyers, sellers and agents. These are property listing, mortgage calculator, mapping and more. You can make informed decisions by understanding costs and essential features while choosing real estate app development company. Mobile apps services offers a promising opportunity  to meet the needs of tech-savvy audience in this evolving world where mobile phones have become an integral part of our daily lives.