Experiential Marketing Budgeting Mistakes You Should Avoid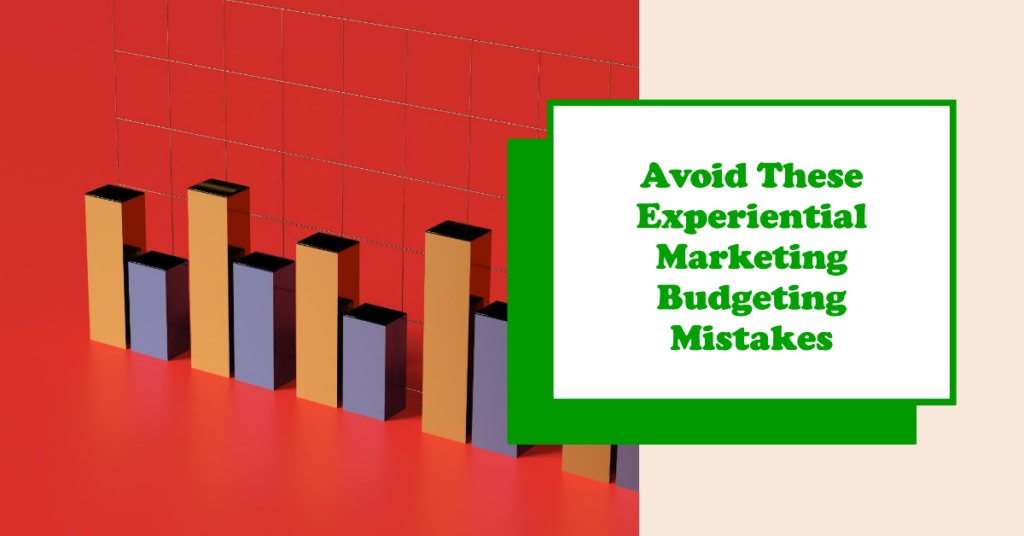 Marketing trends have changed – especially in the post-COVID world. People are more interested in live events and product demos than watching conventional TV ads. Besides, customers are more educated and too smart to target with a TV ad. Something extraordinary was required, and then someone thought of experiential marketing – the magical idea of selling products. Experiential events could be beneficial, but only when you don't commit mistakes. This post will reveal experiential marketing budgeting mistakes you should avoid. Budgeting mistakes can put your event at risk. Keep scrolling to learn more about these mistakes!
Budgeting Mistakes in Experiential Marketing:
Experiential marketing often focuses on creating immersive experiences for attendees. The product demonstrations during these events can take the audience by surprise. However, when budgeting for these events, various brands get off track. Budgeting mistakes can hurt your experiential event, no matter how catchy your product is. Your campaign will never hit the target if you do things wrong – especially in the budget domain. The following list will explain common budgeting mistakes organizations often make and put their campaign at risk. Let us jump into the list!
1. Underestimating costs:
Experiential events are all about creating immersive experiences for your audience. As a brand owner, you should invest in experiences and impress your audience with demonstrations. Setting up a stall and displaying your products requires you to spend some money. However, many brands consider it a small investment and underestimate the expenses, which leads to costly decisions at the end of the day.
Executing immersive experiences and product demos can cost you some money. You must stand ready to spend it. It would be best to conduct thorough research and create a detailed budget to include all potential expenses and costs. The budget should account for event space, the technology you hire, and the staff you need at the event.
2. Not setting objectives:
Your experiential marketing campaign must achieve something – long-term goals and corporate objectives. What if your event lacks objectives? You will never achieve anything with your event. Failing to define clear and measurable objectives will waste your money and costs for nothing. You can discuss the matter with your team members and set measurable objectives to achieve.
Your marketing event should go after objectives like increased brand awareness, lead generation, or engagement. With no objectives, your money and expenses would have been for nothing. Do you want to enhance your brand awareness and generate more sales? You should hire an experiential event agency Dubai and let experts help you with this campaign!
3. Poor planning:
Adequate planning and budgeting are always necessary for a streamlined experiential event. Since you will execute immersive experiences, you always need a solid plan to go about things. Your audience will expect your measures to be accurate and timely; you should never disappoint them. With a proper plan, you will never rush into things.
Developing a comprehensive plan with outlined strategies will surely help your cause. The plan should also include the timeline and logistics necessary for the campaign. Besides, the plan must account for pre and post-event analysis to rule out mistakes and vulnerabilities.
4. Not considering ROI:
An experiential event is expected to generate a good return on investment (ROI). However, if you don't track it? It could be a grave mistake that can fade the purpose of your event and struggles. You should be smart enough to analyze the ROI of your marketing campaign and see if things have aligned with your expectations.
The campaign will have an impact on your business activities. You should establish a system to measure this impact and compare it to the initial budget to see if the outcomes are achieved. If yes, you have done a great job!
5. Ignoring the technology:
An experiential event is nothing without the latest technology. When budgeting for the campaign, you should account for technology and include the latest tools to impress your audiences. Creating immersive experiences requires integrating the latest technology to leave everyone stunned. Digital elements can enhance the overall event experience, and you must see it.
It is necessary to explore how digital elements like augmented reality (AR) and virtual reality (VR) can impact your campaign. Your audience would love to see these technological tools at the stall. Ask them to use these elements and see the glow on their faces. Do you want to make your next experiential event count? You should hire an experiential event agency Dubai and let the experts help you!
Don't commit budgeting mistakes in your event!
Throwing an experiential event could be challenging; you must walk through different phases. Budgeting is probably the trickiest part of the game. Brands often commit the mistake of poor budget planning, ignoring ROI, and underestimating expenses. These mistakes can hurt the event experience, and the campaign will never achieve its goals.