Elegant Pink Anarkali Dresses To Try This Diwali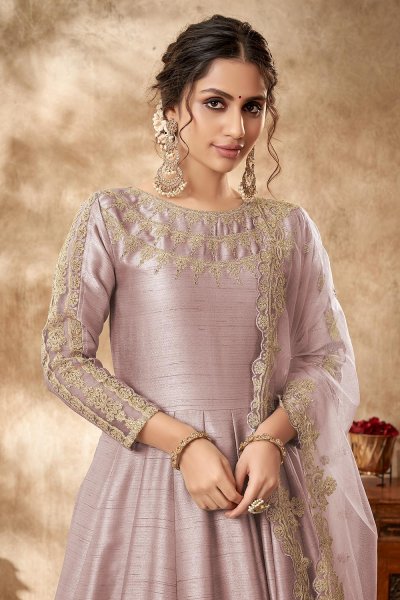 Pink is a calm and soothing colour. It is the symbol of kindness, love and femininity. Therefore, you find many outfits designed for women are in different shades of pink. It is the same for the Indian outfits as well, specially the ones designed for festive seasons. Many Indian designer dresses are found in this sweet and romantic colour and many Indian celebrities choose this colour for their wedding day. If you are someone who wants a unique combination of outfit this festive season, you can opt for Anarkali dresses in the colour pink this festive season. Of course we have Navratri within a week and after that comes Diwali, but start preparing for these festivities months before they begin. From deep cleaning the houses to selecting the outfits, a lot of work is done before these two festivities begin. For Navratri women mostly prefer to wear chaniya cholis and lehenga sets of different colours for nine days to attend the garba or dandiya nights. For Diwali, you can choose different outfits ranging from sarees to lehengas to Indo western outfits.
Diwali is the celebration of lights, of victory of righteousness over evil, the returning of Lord Ram with his wife Sita and brother Lakshman after killing the demon Ravan on the battlefield and rescuing his wife. Therefore, it demands a grand celebration. On this day people worship Goddess Lakshmi for prosperity and in some eastern parts of the country, people worship Goddess Kali as well. Therefore, this festival demands gorgeous outfits. In this article our main focus will be on Anarkali dresses and that too in the colour pink. We shall be looking at some of the gorgeous pink coloured Anarkali dresses which you can wear on Diwali. You can easily get these outfits from your nearby stores and also from different websites. Like A Diva is an online store in the UK where you get different types of Indian outfits for parties, functions, weddings and festivals ranging from sarees, Indian suits, lehengas to Indo western outfits.
Let us now have a look at some of the best pink colour Anarkali dresses to wear this festive season, specially on Diwali.
Dusty rose pink Anarkali gown
It is a unique shade of pink which you can wear this Diwali. And when you wear an Anarkali gown in this colour, you look majestic, elegant and sophisticated. Therefore, to get a stunning look this Diwali, you must try out an Anarkali gown in dusty pink. This outfit is crafted on a luxurious silk fabric. It comes with intricately embroidered gold tone resham embroidery work done on the cutwork hem border, sleeves and neckline. It gives you an enticing look and you get the vibe of a princess, if you wear this outfit. It also comes with a cutwork embroidered net dupatta and shantoon bottom to give you a complete royal look.
Magenta pink Anarkali outfit with belt
This is one of the most loved shades of the colour pink. This colour defines regality and elegance. If you wear this colour, you get a magnificent look. To add more aristocracy to your look, this Anarkali dress comes with bandhani print. Well crafted on a georgette fabric, this outfit is one of its kind. It comes with a crushed flare effect, and is intricately designed with floral embroidery work, gold tone resham work and zari work to make you look elegant and sophisticated. To make you look more dignified and illustrious, it comes with a bordered viscose chiffon dupatta and an intricately embroidered empire waist belt.
Fuchsia pink Anarkali outfit with dupatta
Fuschia pink is another shade of pink evokes the sense of liveliness, confidence and self-assurance. Apart from that this shade of pink symbolises cheerfulness, playfulness and upliftment. Therefore, if you wear an Anarkali outfit in this colour, you not only look elegant, but also look bold and confident. It is one of those colours which makes you feel confident in your own skin. It defines you and your inner strength and power. It is the epitome of true inner beauty and royalty. And if you wear an Anarkali outfit in this colour, you will be the centre of attention in a party, festival or any other events. The outfit also comes with floral motifs, embroidery work, zari work, resham work, gota patti work, sparkly sequin work and a matching embroidered bordered dupatta to give you a complete sophisticated look. It looks no less than any Indian designer dresses out there.