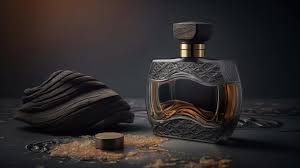 The fragrance has a unique ability to transport us to another world, to evoke emotions, and to make a statement. Perfumes and colognes are a personal and powerful form of self-expression. We will embark on a fragrant journey through the sophisticated and diverse scents of some iconic luxury brands: Valentino, Lalique, Clive Christian, and Burberry. Each of these fragrances encapsulates elegance, passion, and the essence of their respective brands. Join us as we explore the aromatic world of Uomo Intense, Elegance Animale, Clive Christian L, Fruits Du Mouvement, and My Burberry Black.
Best 5 perfumes 
1. Uomo Intense Cologne By Valentino for Men (250 words):
Valentino is a name synonymous with elegance and sophistication in the fashion world. Their fragrances are no exception. Uomo Intense Cologne by Valentino is a captivating scent designed for the modern man. With its rich and complex composition, it is the olfactory embodiment of masculinity. The top notes of Uomo Intense feature fresh and zesty mandarin and clary sage, setting the stage for what's to come. As the scent evolves, you'll experience the heart notes of iris and tonka bean, creating a deep and velvety texture. The fragrance is beautifully rounded off with the base notes of black leather and vanilla, leaving a sensual and lasting impression. Uomo Intense is not just a fragrance; it's an experience. The sleek and modern bottle design is an extension of the Valentino brand's commitment to sophistication. This fragrance is perfect for a man who seeks a timeless, alluring, and confident scent that complements his style and presence.
2. Elegance Animale Perfume By Lalique For Women
Lalique, a brand renowned for its exquisite crystal artistry, has also left an indelible mark on the world of perfumery with Elegance Animale. This perfume is a symphony of sensuality, and it's designed to celebrate the beauty and strength of women.
Elegance Animale opens with top notes of juicy pear and spicy pink pepper, which immediately capture your senses. The heart notes of Turkish rose and jasmine add a layer of opulence, while the base notes of amber and orris root provide a deep and long-lasting trail. The result is a fragrance that exudes femininity and grace, making it perfect for elegant women who want a scent that reflects their inner strength and beauty. The Lalique brand, with its longstanding tradition of craftsmanship and artistry, is evident in the exquisite bottle design of Elegance Animale. The intricate details and the iconic crystal ornament on the bottle are reminiscent of Lalique's artistic heritage.
3. Clive Christian L Cologne By Clive Christian Pure Perfume Spray
When we talk about luxury fragrances, Clive Christian is a name that always stands out. Clive Christian L Cologne is the epitome of opulence and exclusivity, designed for those who appreciate the finest things in life.The opening notes of this perfume feature an exquisite blend of mandarin, lime, and bergamot. As it develops, you'll be enveloped by heart notes of nutmeg, cardamom, and jasmine, creating a complex and multi-dimensional aroma. The base notes of cedarwood, vanilla, and musk provide a rich and lingering scent. Clive Christian's commitment to luxury extends beyond the fragrance itself, with a bottle that's a true work of art. The design features a gold-plated collar, and each bottle is individually numbered and carefully crafted to reflect the brand's dedication to perfection.
4. Fruits Du Mouvement Perfume By Lalique For Women
Lalique once again graces our list, this time with Fruits Du Mouvement, a fragrance that embodies the joy and vibrancy of life. It's a celebration of femininity and all the beautiful moments that make life extraordinary. Fruits Du Mouvement opens with a burst of freshness, thanks to the top notes of mandarin, blackcurrant, and bergamot. The heart notes of rose, jasmine, and gardenia add a floral elegance, while the base notes of cedarwood, musk, and amber provide depth and longevity. The bottle design is a masterpiece in itself, featuring Lalique's iconic crystal craftsmanship. The artful representation of the fragrance within the bottle makes it a collector's item as well as a perfume.
5. My Burberry Black Perfume By Burberry For Women
Burberry is a British luxury brand known for its timeless style and elegance. My Burberry Black perfume is a fragrance that captures the essence of a London garden at dusk, where the rain-soaked blooms release their scent into the evening air. The top notes of My Burberry Black are a delightful blend of peach, jasmine, and rose, creating a rich and intoxicating opening. As the scent develops, the heart notes of roses and the deep, earthy patchouli take center stage. The base notes of amber and patchouli give this fragrance a long-lasting and sensual finish. The bottle design of My Burberry Black is a nod to the brand's iconic trench coat, with a dark glass design and a hand-tied black gabardine bow. It's a perfect representation of Burberry's commitment to both tradition and modernity.
Conclusion
Fragrances are more than just scents; they are an extension of one's personality and style. The perfumes and colognes from Valentino, Lalique, Clive Christian, and Burberry are not just olfactory experiences but also a way to express your individuality. Whether you seek elegance, sensuality, or a touch of the British spirit, these brands offer a range of scents to suit your desires. So, embrace the world of luxury fragrances and let your signature scent become a part of your identity.
read more