Things to keep in Mind when you register an LLP in India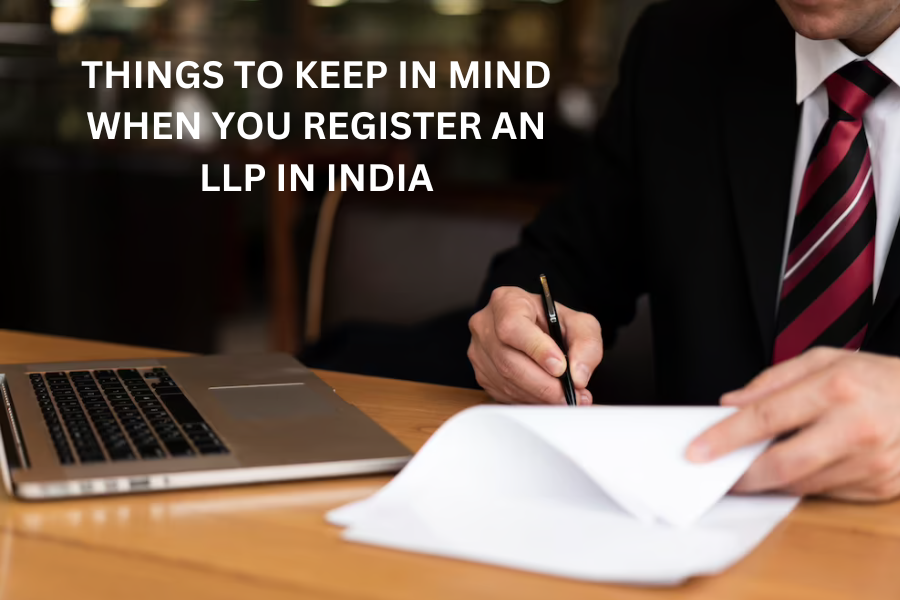 Starting a Limited Liability Partnership (LLP) in India can be an exciting venture. An LLP offers the benefits of limited liability and the flexibility of a partnership. However, before you embark on this entrepreneurial journey. There are several key aspects you need to keep in mind to ensure a smooth and successful registration process. In this article, we will discuss the important factors that should be considered when registering an LLP in India.
Choose an Appropriate Name:
Selecting the right name for your LLP is crucial. The name should be unique, relevant to your business, and not violate any existing trademarks or copyrights. It is advisable to conduct a thorough search on the Ministry of Corporate Affairs (MCA) website to ensure that the desired name is available for registration.
Obtain Digital Signatures (DSC):
Digital signatures are required for filing online LLP registration forms. All designated partners must obtain their individual DSC from certified authorities. These signatures will be used to authenticate and verify. The electronic documents filed during the registration process.
Obtain Director Identification Number (DIN):
Each designated partner of the LLP must obtain a Director Identification Number (DIN) from the MCA. The DIN serves as a unique identification for the designated partners and is necessary for incorporating an LLP.
Prepare LLP Agreement:
Drafting an LLP agreement is essential as it outlines the rights, duties, and responsibilities of the partners. The agreement should cover aspects such as profit-sharing ratio, capital contribution, decision-making procedures, and dispute resolution mechanisms. It is recommended to seek professional assistance to ensure that the LLP agreement complies with the legal requirements and protects the interests of all partners.
Register with the Registrar of Companies (ROC):
To register an LLP, you need to file the necessary forms and documents with the Registrar of Companies (ROC) in the respective state where the LLP will be located. The documents required include the LLP agreement, consent of partners, address proof, and identity proof of partners, among others. It is crucial to accurately complete and submit these documents to avoid any delays or rejections in the registration process.
Obtain Permanent Account Number (PAN) and Tax Deduction and Collection Account Number (TAN):
Once the LLP is registered. It is important to obtain a PAN and TAN from the Income Tax Department. These numbers are essential for conducting business, opening bank accounts, and filing tax returns.
Comply with Statutory Requirements:
After the LLP is registered, it is essential to comply with various statutory requirements. These include maintaining proper books of accounts, filing annual returns, and adhering to tax obligations. Failure to comply with these requirements can result in penalties and legal consequences. It is advisable to consult a professional chartered accountant or company secretary to ensure compliance with all relevant laws and regulations.
Protect Intellectual Property:
Intellectual property (IP) is an invaluable asset for businesses. It is advisable to identify and protect any unique trademarks, patents, or copyrights associated with your LLP. Registering trademarks ensures that your brand identity is protected from unauthorized use or infringement. 
Obtain necessary licenses and permits:
Depending on the nature of your business, you may need to obtain specific licenses and permits from regulatory authorities. It is important to research and identify the licenses applicable. To your industry and ensure that you obtain. Them before commencing operations. Common licenses include GST registration, professional licenses, trade licenses, and environmental clearances.
Seek Professional Guidance:
Registering an LLP involves various legal and regulatory processes. It is highly recommended to seek professional guidance from qualified experts such as chartered accountants, company secretaries, or legal consultants. They can provide valuable advice, assist with the registration process, and ensure compliance with all legal requirements.
In conclusion, registering an LLP in India requires careful planning and adherence to legal procedures. From choosing the right name and drafting an LLP agreement to fulfilling statutory requirements and protecting intellectual property, each step is crucial for the success of your business. By keeping these important factors in mind and seeking professional guidance when necessary. You can ensure a smooth and hassle-free registration process for your Limited Liability Partnership.
Remember, the registration of an LLP is just the beginning of your entrepreneurial journey. It is important to continuously review and comply with legal obligations, maintain accurate records, and adapt to changing regulatory frameworks to ensure the long-term success and growth of your Limited Liability Partnership.