Exciting Ways to enjoy Raksha Bandhan with Children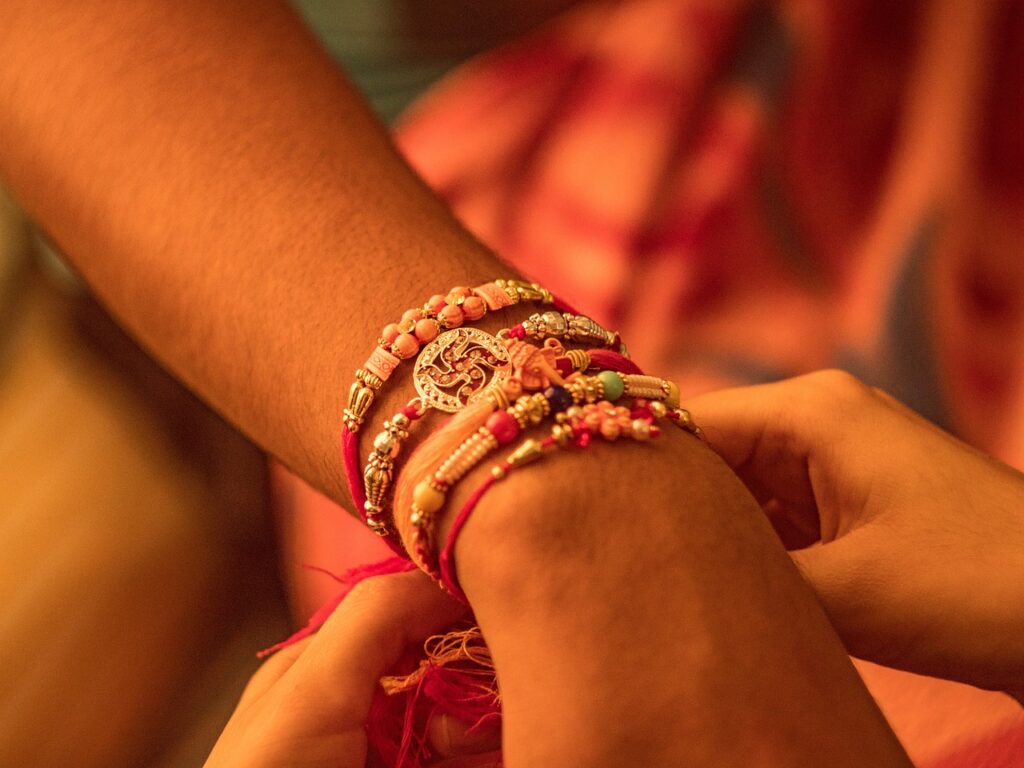 Raksha Bandhan is a joyous Hindu festival celebrated in India and other parts of the world to honor the special bond between brothers and sisters. It is a day when sisters tie a sacred thread, known as rakhi, around their brothers' wrists, symbolizing love, protection, and a lifelong commitment to each other. While Raksha Bandhan is traditionally observed by adults, it is equally important to involve children in the festivities to help them understand the significance of this beautiful festival. In this essay, we will explore some exciting ways to celebrate Raksha Bandhan with children, making it a memorable and enriching experience for everyone involved.
Storytelling: 
One of the best ways to introduce children to the significance of Raksha Bandhan is through storytelling. Narrate the story of Raksha Bandhan to them, which revolves around the historical tales of brothers and sisters from Indian mythology. Stories like Lord Krishna and Draupadi, Rani Karnavati and Emperor Humayun, and Yama and Yamuna can captivate children's imaginations and help them understand the essence of this festival.
Craft Activities: 
Engage children in various craft activities related to Raksha Bandhan. Provide them with colorful threads, beads, ribbons, and other decorative materials to create their own rakhis. Encourage them to use their creativity and make unique designs. This hands-on activity will not only enhance their artistic skills but also foster a sense of love and care as they make rakhis for their brothers or sisters.
You can order rakhi gifts online for kids and make them feel joyful.
Cooking Delights: 
Involve children in preparing delicious traditional sweets and treats for Raksha Bandhan. Teach them simple recipes like ladoos, barfis, or kheer. Allow them to measure ingredients, mix the batter, and shape the sweets. This activity will not only introduce them to the culinary delights of the festival but also provide an opportunity for them to bond with their siblings or other family members.
Rakhi Making Competition: 
Organize a rakhi-making competition among children, either within the family or in the community. Set up different stations with materials for making rakhis, and let the kids showcase their creativity. Encourage them to think out of the box and come up with innovative designs. Such competitions promote healthy competition, teamwork, and a spirit of celebration.
Cultural Extravaganza: 
Arrange a small cultural program where children can showcase their talents in singing, dancing, or acting. Encourage them to prepare performances related to the theme of Raksha Bandhan. This could include singing traditional songs, performing skits based on the festival's stories, or showcasing traditional dances like the "Rakhi Dance." Such cultural activities allow children to learn about their cultural heritage and build a strong sense of identity.
Sibling Bonding Activities: 
Raksha Bandhan is all about strengthening the bond between siblings. Plan activities that promote sibling bonding, such as treasure hunts or collaborative art projects. These activities encourage siblings to work together, communicate effectively, and appreciate each other's strengths. It is a great way to teach children the value of love, trust, and support that comes with having a sibling.
Community Service: 
Instill a sense of compassion and social responsibility in children by involving them in community service projects on Raksha Bandhan. Teach them the importance of helping those in need and supporting each other. Plan visits to orphanages or elderly care homes, where children can tie rakhis and spend time with the residents. Engaging in acts of kindness and empathy will help children understand the true spirit of Raksha Bandhan.
Read More : Perfect Stress Relief Gifts to Promote Happiness
Conclusion:
 Lastly, involving children in acts of kindness and charity during Raksha Bandhan fosters empathy and compassion. Encouraging them to donate clothes, toys, or books to the less fortunate reinforces the importance of sharing and caring for others. Participating in charitable activities also helps children understand the social significance of festivals, buying and sending rakhi gifts online,  instilling a sense of responsibility and gratitude.
In conclusion, by incorporating exciting and meaningful activities, Raksha Bandhan can become an unforgettable experience for children. Whether it's through crafting rakhi bracelets, storytelling, cooking, outdoor games, or acts of kindness, we can impart valuable lessons and create cherished memories. Celebrating Raksha Bandhan with children not only strengthens the sibling bond but also nurtures their creativity, cultural awareness, and emotional intelligence. So, let's embrace the joy of Raksha Bandhan and make it a truly remarkable celebration for the whole family.