5 Famous & Iconic Bathrooms and How to Recreate Them
Ever seen a one-of-a-kind luxury bathroom on Pinterest that piqued your interest right from the first glance? Or an iconic bathroom from your favourite film or TV show, or perhaps a celebrity is urging you to renovate yours just the same. Considering the nifty, luxe, and serene environment they portray, it wouldn't be wrong to get inspired by those bath-like sanctuaries. 
If you want to create bathroom Furniture that stands out and aesthetically appeals to anyone that enters the room, keep the cash ready for some extravagance. Because quirky styles don't come cheap. Remember the Gryffindor bathroom from the Harry Potter series; creating an identical room would cost you around £6,000 or more. 
From typical retro-styled bathrooms portrayed in "FRIENDS" to Kendal Jenner's glamorous shower rooms, we have listed the top five iconic on-screen bathroom designs you'd want to replicate in 2022. 
Top Iconic Bathroom Ideas and their Cost
We have rounded up an estimated cost of the most iconic bathrooms in the Hollywood media by summing the individual price of each fixture inside. 
Monica's Bathroom from FRIENDS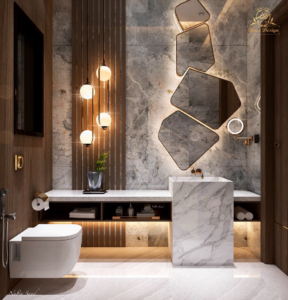 Even though the last episode of FRIENDS aired some two decades ago, most of its iconic sets and scenes are still sketched into their fans' minds, like Monica's bathroom. Its mauve walls and freestanding clawfoot bathtub offer the perfect way to bring back the aesthetic 90's look in your bathroom. 
Like many other fixtures in those times, Monica's signature bathroom design isn't much expensive to replicate. You just need to set aside a decent £1800 for the entire decor, including £600 for the clawfoot tub. 
While it wasn't such a hype back in the days, the clawfoot tub has become a centrepiece in most retro-styled bathrooms hence the heftier price tag. If you intend to go all out with Monica's towel system, you might need to include a fair range of towel categories. 
Kendall Jenner's Bathroom
Be it the fashion world or social media modelling, Kendall Jenner is a sensation in both worlds. Besides her glamorous on-screen career, she also pays equal attention to her lifestyle off the screen. Often depicted in her Instagram feed and reels, people have grown fond of her super-stylish and elegant bathroom design, with many wanting to replicate the design.
However, with the luxury interior and fancy fixtures comes a mind-boggling price tag. Here's to give you an idea of the entire bathroom budget. Even though the bathtub isn't the only focal point in the room, it costs an overwhelming £6,000. Sum it up with other fixtures in Kendall's bathroom, and you'll have a renovation budget amounting to more than renovating a two-story townhouse. 
Pretty Woman Bathroom
Suppose Pretty Woman has been on your all-time favorite TV show. In that case, you'd definitely remember the scene where Julia Roberts sings alongside Prince in the iconic, ostentatiously ornated circular hotel bathroom. As it goes without saying, this bathroom could be your most expensive renovation. 
Apart from the super-expensive budget amounting somewhere between £5,000 to £5,500, the elements and fixtures used in the original version aren't easy to source. From the large heritage basin and washstand in a vintage-styled theme to the towel ring and London bath that add to the glamor and style of the room. 
Before buying the fixtures and ornaments, ensure your bathroom has enough space to sort everything like it's supposed to.
Bathroom from the Shining 
Spooky season fans, giddy up! Re-enact one of the most famous scenes in the 237 bathroom. Besides the disturbing scene associated with the room, its stylish and fantastical interior decor is the only one that sticks with fans. 
The green walls laden with pistachio-coloured fixtures have stirred in trend once again, allowing you to relive the 1980s horror. What makes it an even better choice for your new bathroom renovation project is the mid-range budget which stands at £3,300. 
Carrie Bradshaw's Bathroom from Sex and the City 
Carrie Bradshaw's bathroom from Sex and the City perfectly blended style, luxury, and practicality. That's why we see the columnist moving on with her character's development into the storyline with fewer scenes depicting the bathroom. 
Nevertheless, the minimalist New York bathroom design still sticks out from the rest of the interior. Besides the less-quirky outlook, the bathroom features a steel enamel bath that serves as a never-ending styling option. To cater to the storage needs of the bathroom, the bathroom also uses corner shower baskets, all of which come at £800 – leaning more towards the affordable end of bathroom renovations.