Top Five eCommerce Platforms to Use in 2022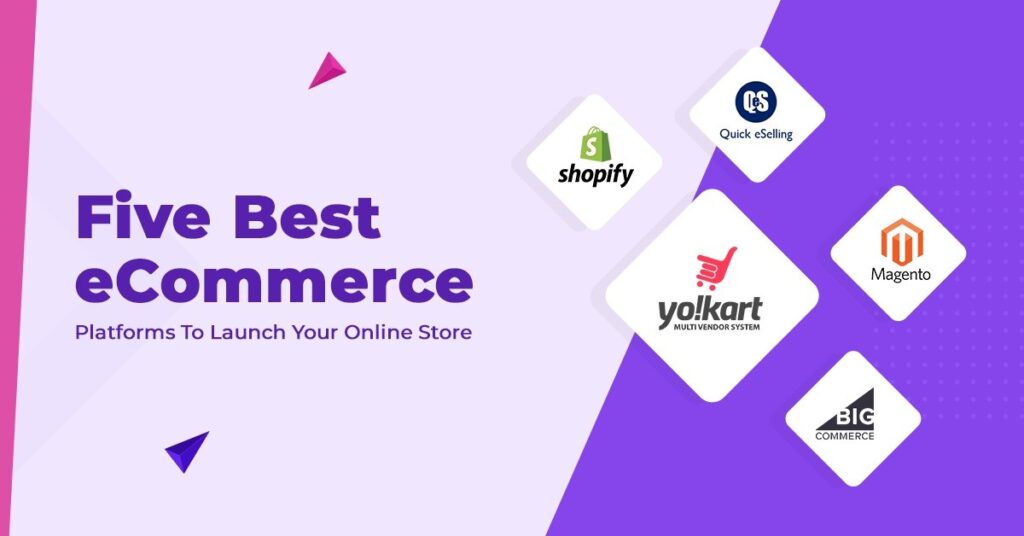 In today's digital era, people are shifting towards online means of shopping. Gone are the times when people would go to brick-and-mortar stores to buy every small to big commodity. With this evolving consumer behavior, retail eCommerce business owners have no choice but to start their business operations online. This is the only way to keep up with the pace and prosper in the marketplace.
Hence, the only solution to overcome this modern world problem is to break through the digital marketplace through a website. There are numerous eCommerce platforms to create an eCommerce web store. It includes contemporary features like a shopping cart, online payment, intuitive search, inventory management tool, and much more. The idea of eCommerce has revolutionized the trend for businesses globally. Local merchants are now converting their businesses to online digital stores to find more customers and increase higher earnings. They have tremendous opportunities to grow their business and generate more sales with significant revenue. These eCommerce platforms offer ease to businesses and individuals to build a quick website. It takes about no time to create a ready-made website with a specific template theme design for organizations. Businesses can earn tremendous profit by selling their products online.
TOP 5 ECOMMERCE PLATFORMS
When opting for an eCommerce platform to build a website for your retail business, make sure it meets your business needs. Therefore, always go for the platform that suits your technical skills and offers customization options. It must be in accordance with the customers' needs and requirements. Today's customers want interaction in an eCommerce website. They want it to be responsive that can run on any cross-browser compatibility platform. We researched dozens of platforms to narrow down the best ones.
Below, we will discuss the top 5 eCommerce platforms enlisted by Web Design Lane, a leading custom eCommerce web design agency.
Shopify
Today, Shopify is one of the most popular and widely used eCommerce platforms across the world. It is a web app that allows business owners to create an online store for their retail business. Moreover, this eCommerce store builder gives access to many available templates customized per online retailers' needs. The best part about Shopify is that you don't need any technical expertise to create an online store. In addition to this, the software offers countless features such as multiple payment gateways, responsiveness, loading speed, management tools, and much more. The tool comes with a complete CMS that gives you the authority to manage the store yourself to the fullest.
Magento
Ideal for enterprises, Magento offers full control over the website. The website developer gives you a unique web presence while maintaining server independence. Moreover, Magento offers a fully customizable solution for large enterprise-level businesses that plan to expand further. Thus, the store created by Magento can withstand a high volume of traffic and business. It can bring a tremendous amount of visitor traffic for your business that augments your profit and revenue.
WooCommerce
WooCommerce is one of the most used eCommerce platforms and accounts for about 30% of all the online stores in the digital marketplace. It is a free and open-source WordPress plugin. It is one of the best online store solutions for small businesses that are short on budget. Furthermore, WooCommerce allows robust online store creation and offers thousands of themes and plugins, making it flexible to varying business needs. The stores build on WooCommerce are mobile-friendly and support geo-location, inventory management, and much more.
OpenCart
OpenCart is an open-source, free eCommerce platform ideal for online merchants. It provides a reliable foundation to build a successful and responsive online store. The platform is easy to use, and the stores it builds allow selling unlimited products. The best and unique feature of this eCommerce platform is that it offers multi-store functionality. The software uses a single admin panel to host as many online stores as needed.
BigCommerce
BigCommerce is an all-inclusive eCommerce platform that offers flexibility to meet the requirements of different-sized businesses. Regardless of the industry's niche, this feature-rich platform allows businesses to reach a more comprehensive online audience. Moreover, it integrates different applications and social media accounts and leverages more than 65 payment gateways. Furthermore, the websites designed on BigCommerce are responsive, feature-packed, and super-fast in loading. Customers can leave reviews and ratings, opt for their preferred payment method or currency, and choose between multiple languages.
Final Words
At the end of the day, every business has unique needs, workmanship, and budget. Therefore, there is no single "ideal" eCommerce platform. If you are looking to start your store online, examine your needs closely to determine which eCommerce solution best meets your business needs. Ecommerce has a growing demand in everyday life. It provides an enjoyable shopping experience to people around the world. Many businesses have set up their eCommerce stores to run successfully.