Best 5 Ways To Promote Your Ghostwriting Services Online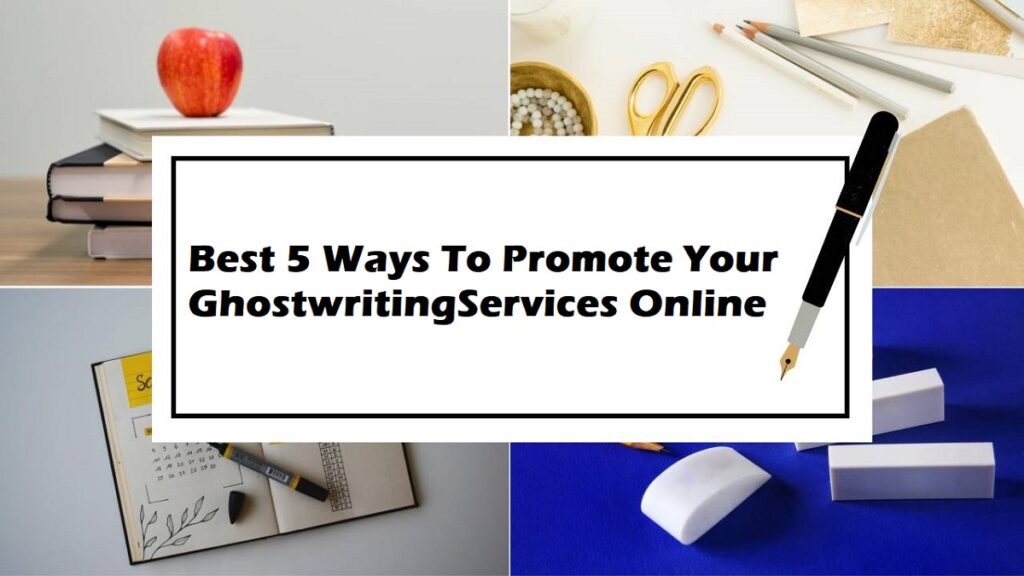 Do you wish to exhibit your writing flair to the world? You have fantastic writing skills, but it's sad to see your admirers are only your family and friends. Besides, life is swift and short but writing talent is a subtle art that has infinite doors of skills and potential. It would be best if you unlocked all these passageways to make the most of your life with this highly lucrative strength. One way to market your mesmerizing writing skills is to promote them online. So, please waste your precious time and knack that could earn you generous revenues. How about you ghostwrite blogs, articles, ebooks, and other word-based content for people living on the internet?
Indeed, ghostwriting will help you groom your writing skills to the next level. Your level up in vocabulary, boost in grammar skills, and revitalized sentence structure will make you more confident. Your passages and full-fledged works will become the best profitable proceedings of your life as a writer.
Therefore, it's better to offer writing services by yourself rather than seeking admission to a professional ghostwriting agency. But remember, things take time when they reach their full bloom. Hence, publicizing your writing skills and being ready to supply them to people will require your dedication, passion, and consistency.
Please don't assume people will hear your voice on the first go. Sorry, it doesn't work that way. You must scream out with an energetic voice via compelling Facebook ads, push notifications on mobiles, and such. Take another shot with advertising by hiring graphic designers to create eye-catching banners and other brand-centric artworks. Animations, for example, can help you attract hundreds of customers to your channel daily. Below are some fantastic ways to promote your writing skills and services locally and globally:
1. Express your writer's eloquence to your Target Audience
First and foremost, connect with people on the internet. Ensure you utter your words with sincerity. Let them know that you're a genuine person who tries to break through the hindrances that not many can. Reveal to them that you have a charismatic personality with a bookworm's soul. Try your best to convince them to the extent that they are ready to invest their money in your top-tier ghostwriting services.
Moreover, you can also work with other writers to interact and communicate with you in public places. Ensure that the crowd spaces strengthen the writers' interest and perspective. For example, you can start a meaningful conversation in a library, a city park, a coffee shop or a book store, and so forth.
2. Promote Ghostwriting services on the Web
The internet is an efficient platform to advertise your ghostwriting services. After all, it is the only place where billions of people socialize for a single purpose! – To use social media. Besides, not a single person on earth doesn't use the internet. Remember that millions of users spend 10 to 12 hours per day online. As a result, try to impress your potential customers here. You can share blogs about interesting topics on Facebook, post brilliantly written article links on Facebook, and even tweet about ghostwriting on Twitter.
3. Proclaim your Ghostwriting Business confidently
The next and most critical of all is to cross all familial boundaries. Your Uncles and Aunts are the main obstacles; asking about your salary and when you'll get married, respectively. Sorry to break the bubble here, but these concerns among adults towards broods are a universal act of ridicule. Wait no more and announce confidently you run a ghostwriting service company online. As for marriage, replies vary, and it's a very personal matter for which we cannot suggest any remedy.
In addition, try to convince them enthusiastically as you converse with them. Talk about your ongoing projects and notable accomplishments. Do not forget to reveal your portfolio filled with the fantastic past project you ushered with flying colors.
4. Advertise Ghostwriting Services on Facebook, Twitter, etc.
Social media is the key to unlocking your truest potential. Since it's a home to different nations, various societies, and indigenous cultures, it can aid the marketing process. Whether you have a charismatic personality, rarity, talent, laughable one-liner puns, or a skill, social media is the best stage. Facebook is a great place to post your ads. Ensure they are enriched with content that's easy to read with a gripping textual tone.
Facebook is great for posting ads and short videos about how the ghostwriting hiring process works. Or you can share a few samples of some Fb groups and pages. Twitter, on the other hand, helps you convey your message. Just write a few words or one or two sentences to sway potential clients to buy your online ghostwriting incentives. Snapchat and Tik Tok, on the other hand, are great platforms for publishing short-lived video messages. Ensure your looks, gestures, and ghostwriting viewpoints are exhilarating and emotionally captivating.
5. Create Profiles on various Freelance Platforms
Besides social networking websites, the real deal is those freelance websites. Here you can earn fortunes every seven days a week. Thanks to these websites' work-centric nature, clients and cash are always around the corner. So, sit tight and enjoy! Create your profiles on Upwork, Truelancer, Freelancer, Toptal, SimplyHired, and many others. Do not forget to add some of the awesome work you did for your clients in the past.
Final thoughts
Promoting ghostwriting, a product, or anything on the internet with a resounding attitude is an art itself. The captions above are a good take on our topic. Don't forget to use call-to-action (CTA) ads and pay-per-click (PPC) click triggers. These will help you promote your ghostwriting services more efficiently internationally.
Surely, there are endless ways to promote your business. All you need are your invincible spirits to yield and wield yourself as a ghostwriter. You can print ghostwriting services pamphlets and posters or obtain third-party profile-raising agreements. If you do well, who knows, one day you can win sponsorship from big companies and internet trendsetters tomorrow? Isn't it amazing to hear such?!