Home Improvement Loans Options You Need To Know Before You Avail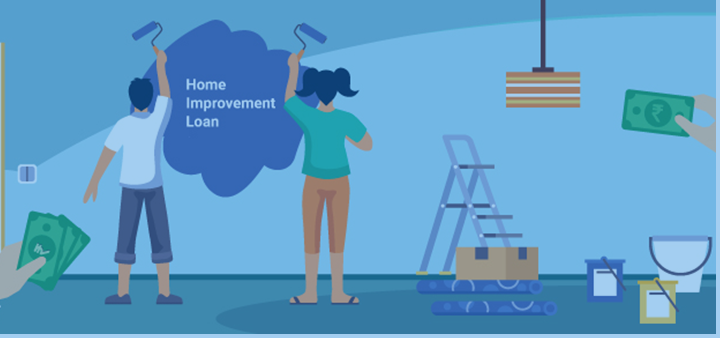 India's real estate sector is reviving after a difficult time in the past couple of years. RBI's decision to lower policy rates and various Government initiatives has helped this sector find its footing. Besides new units, owners of older houses are also spending a considerable amount in remodeling and renovation.
According to a report, construction cost has surged by 35% over the last year, and labour cost has gone up by 25% in that same period. Owing to such increased renovation costs, opting for an affordable home improvement loan is a wise move. Nevertheless, knowing all the options available is important before opting for such a line of credit..
Finding the best home improvement loan: Things to consider
Home renovation is not just limited to repairing the outer sides of a house or painting it anymore. Now, it involves revamping the entire space by adding new elements, décor pieces, etc. This inevitably increases the overall cost, compelling homeowners to opt for personal loans for home improvement to finance it.
Even though digital personal loans for home renovation are easily accessible these days, before going for them, there are certain necessary aspects one must consider –
In order to find the best home improvement loan, one needs to consider two vital factors, such as the rate of interest and repayment tenor. Note that personal loan rate tend to be on the higher side due to their unsecured nature. Hence, finding favourable terms is necessary to make the equated monthly instalment affordable.
Most financial institutions offer a tenor ranging from 24 to 60 months. However, choosing a longer repayment period might lead to increased interest costs. This is why making comparisons using an EMI calculator is necessary to find the right personal loan tenor.
How much the lender is offering
As mentioned earlier, refurbishing a housing property has become an expensive affair over time. This is why owners must gauge their needs first and apply for the home improvement loan accordingly. Check how much your chosen lender is ready to sanction and if that matches with your estimated renovation costs. Reputed financiers like Bajaj Finserv offer personal loans of up to Rs. 25 lakh.
Such NBFCs also provides pre-approved offers on several financial products such as personal loans, business loans, credit cards, etc. These offers help to streamline a loan application process and save time. Individuals can easily check their pre-approved offer by submitting their names and contact details.
Available repayment options
For such unsecured credit facilities, having a property repayment strategy is necessary. This way, it becomes easier to manage EMIs without stressing one's finances. However, apart from the traditional monthly instalment payments, individuals should also be aware of other repayment options available on this loan.
For instance, a person can opt for part-payment or foreclosure facilities. It will allow them to repay a portion of the outstanding loan amount or the entire sum before the tenor ends. This is generally done when one manages to accumulate substantial funds and wants to get rid of the EMI burden.
Additional charges applicable
In terms of different repayment facilities or going through the personal loan application process, there can be associated charges applicable on it. Therefore, before making such commitments, it is advisable to check the personal loan for home improvement fees and charges imposed by your chosen lender.
After assessing all of that, individuals will be able to decide whether going for that particular lender will be convenient for them or not. Once they are satisfied with the terms facilities, the financial institution is extending, and prospective borrowers can go ahead with the application process of a home improvement loan.
How to apply for personal loans for home renovation?
Here are the steps individuals need to follow to acquire funds for home improvement through a personal loan:
Step 1: Start by visiting the online portal of your chosen lending institution and collecting the personal loan application form.
Step 2: Provide all the necessary details such as name, employment, contact information, etc.
Step 3: Make sure to submit all the supporting documents along with this application form. Upon submission, the financier will verify these and get in touch with applicants to discuss the loan amount and tenor.
Step 4: Evaluate the total cost of home renovation and apply for a loan accordingly. However, applicants must ensure that they are applying for credit as per their repayment capacity.
After receiving the loan request and verifying applicants' credit profile, personal and professional information, etc., lenders sanction a loan within a few working days. Note that to qualify for a home improvement loan and a sizeable amount, it is extremely crucial to have an impressive repayment track record. Remember to go through the financier's terms and conditions too before getting into it.
Read Also: 3 Things to Consider Before Applying for a Home Renovation Loan