Tools To Display Live Instagram Wall For Events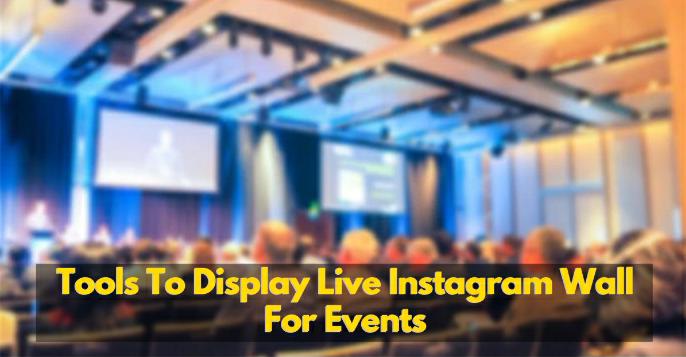 Meta Description: Live Instagram wall for occasions is quite possibly of the best apparatus that are outwardly engaging and assists with expanding crowd commitment. Show live Instagram feed on the screen and amplify the whole effect of the occasion.
We all have seen and experienced the impact of Instagram, not to mention how we spend hours scrolling through the engaging Instagram feed. Today, if a brand wants to become successful, they really need to have a good Instagram presence and visibility.
Not just that, brands and event organizers have started leveraging the power of Instagram engagement by making it a part of their events. Brands organize hashtag campaigns, create event-exclusive filters, post stories, go live and even collaborate with Instagram influencers.
While every brand is cashing upon this new trend, how can you harness the power of Instagram engagement in your events? Well, allow us to introduce you to the Instagram wall that will help you to offer unforgettable event experiences to your event attendees.
But what is an Instagram Wall? Let's find out!
What Is An Instagram Wall?
Instagram Wall is a tool that enables users to collect their preferred Instagram content through hashtags, handles, stories, Reels, etc., and curate them into a feed. Once the feed gets curated, they can remove the irrelevant or unwanted content from the feed and create an Instagram wall display with several customization options that blend well with the event's themes.
The Instagram wall works like the perfect event engagement tool. That's because of the impact Instagram has had on the masses lately. With an Instagram wall for your event, you get to bring that impact to your event. You get to improve your Instagram presence, boost visibility, create social proof, and boost event engagement rate like never before.
Why Use An Instagram Wall For Events?
An event, be it virtual, hybrid or in-person, is an environment where people come together to socialize and network. Now, the Instagram wall help event organizers bring the element of 'social' to the event. It helps the event organizers to boost the engagement rate.
When attendees see a real-time Instagram wall running during the event, it entices them and instils social proof in them. It encourages the attendees to create user-generated content for your event, which helps you to reach more users and boost the visibility of your event. This generates more buzz, attracts more prospects and ensures a boost in your event ticket sales for your next event.
Not just that, you also get to highlight your event sponsors' content and boost their visibility. Making it a win-win in every situation.
Best Tools To Display Live Instagram Wall For Events
Here are some of the most amazing Instagram wall tools that will help you to create unforgettable event experiences for your event audience.
1. Taggbox Display
Taggbox Display has to be the best Instagram Wall tool. It is a DIY platform. Brands can collect content from Instagram using a hashtag, handle, mentions, tags, stories, Reels, etc. The platform offers a 14-day free trial. All your preferred Instagram feed gets collected on the Taggbox Display dashboard. From the dashboard, users get the moderation feature to filter out irrelevant or unwanted content.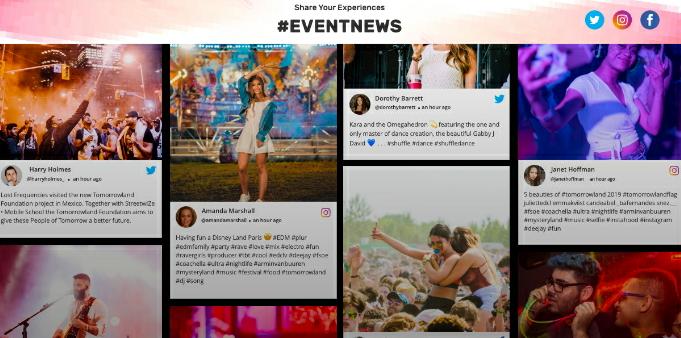 They then come across the customization feature that enables brands to create an Instagram that blends well with their event's theme, with various themes, colours, fonts, templates and other customization options. Once you have successfully created your Instagram wall, you get to generate an easy embed code that you can use to display the Instagram wall on any event platform or format.
2. Sprinklr
If you want to showcase your Instagram wall on large jumbotrons or billboards, then Sprinklr Display has to be the best option. Sprinklers enable event organisers to manage content like stock prices, social media posts, etc.
3. Tintup
Just like Taggbox, Tintup is a DIY Instagram wall tool that event organizers can use to build their own Instagram wall for their event. They offer a fully customizable Instagram wall that comes with pricing suitable for every individual's needs. They offer multiple tailor-made feeds and branding themes that event organizers can leverage to create their own Instagram wall that works in any and every event format.
4. Juicer.io
Juicer is another Instagram wall provider that offers easy options to seamlessly create, curate and display an engaging Instagram wall at your event. You get to share your best posts with your event audience through a captivating Instagram Wall that grabs the attention of each passerby, making the Instagram wall the main attraction at your event.
Let's Call It A Wrap!
Reaching the end of this blog, we hope that you have a better understanding of displaying the live Instagram wall at your event.
We just offered you some fantastic tools that can help you effortlessly display the Instagram wall at your event.
While Instagram has been a gamechanger for many brands, let Instagram wall also help you create unforgettable event experiences for your event attendees.