Ayurvedic head massages: Benefits and types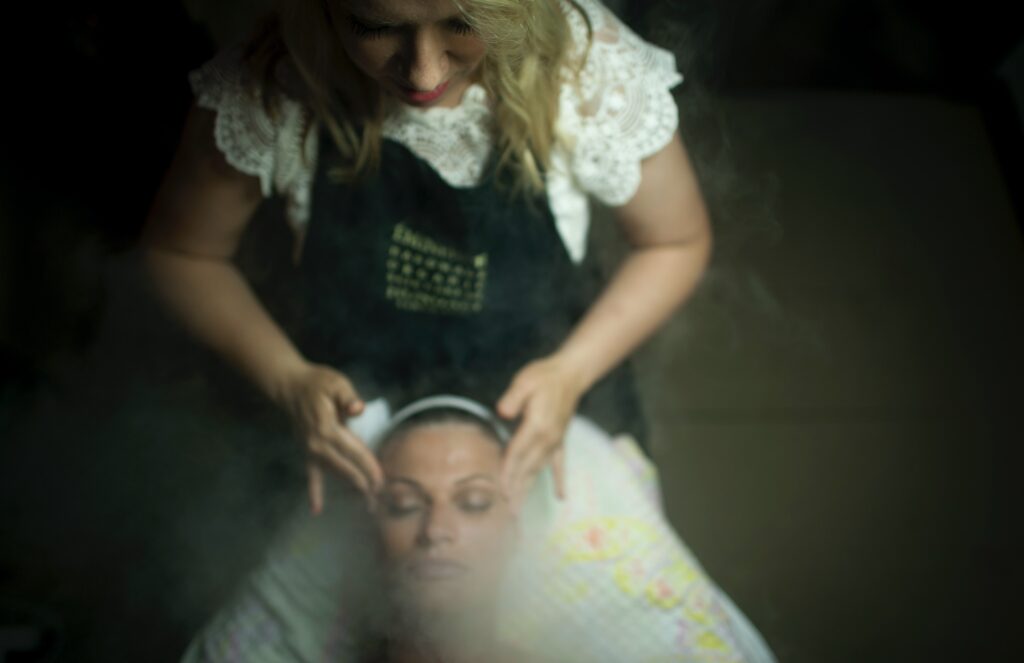 Meta Description: Can Ayurvedic massages really bring balance to one's body & mind? Find out how Indian head massage helps and how it plays a major role in Ayurvedic treatments.
Ayurvedic head massages: Benefits and types
When was the last time you had a great head massage? Probably never! The Ayurvedic or Indian head massage is designed to induce a sense of calm. So, when you experience it, you end up feeling pure bliss. Sounds exaggerated? Well, it's not.
According to Ayurvedic experts from India, Ayurvedic head massages don't just relieve you from stress, but also promote strong hair growth. So, if you are wondering how it works, we've put together a brief lowdown of some of the popular Ayurvedic head treatments.
What is an Ayurvedic head massage?
Ayurveda is an ancient therapeutic treatment that has been in practice in India for over 5000 years. Ayurveda treatments, including head massages, involve a variety of pressure techniques, especially focusing on the head, shoulder, and neck regions.
When done in conjunction with aromatic oils and other Ayurvedic herbal remedies/ formulations, the treatment stimulates the body's healing abilities, while also improving the scalp and skin condition.
What are pressure points?
According to Ayurveda, there are 108 vital points in the body, a.k.a. Marmas, of which 31 are present in your head. These are the intersecting points of important veins, arteries, and other cranial nerves. So, in the words of Ayurveda, pressure points or Marmas are bi-directional emissary veins that play a major role in cooling, draining, and even relieving pressure.
Here's a list of some of the important Marmas in the head.
Adhipati: This is a soft spot lying in the center of the skull – located about 8 fingers away and above the eyebrows.
Simantaka: These are the five suture joints located across the scalp region.
Krikatika: The two Krikatika points are located on either side of the cervical vertebrae at the occipital-cervical joint (at the junction of the head and the neck).
Vidhuram: The head has two Vidhuram points located behind and below the ears. You can spot them as the two depressions just behind the earlobes.
Shankha: The two Shankha points can be found on the temples. They lie between the forehead and the ears.
Utkshepa: The two Utkshepa points are located at the level of scalp hair lining, just above the Shankha pressure points.
Ancient Indian head massage makes use of these pressure points or Marmas to boost blood circulation, intra-cranial circulation, and scalp vasculature. However, before you decide to embark on this journey, your therapist would examine your condition to evaluate the state of your Vata, Pitta, and Kapha doshas.
Types of Ayurvedic head massages
Shiro Abhyanga: Clearly one of the most popular forms of Ayurveda treatments, the massage technique includes a systematic process of activating the Marmas in the head and the shoulder regions. It is a popular Indian head massage used for easy stress relief.
Shirodhara: This form of massage involves treating your forehead, where the nerves are highly concentrated. In this, a stream of warm Ayurvedic/ medicated liquid is gently poured or applied to the forehead.
Shiro Pichu: This head massage involves soaking the head with medicated oils using a cotton pad or a sterile cotton cloth. According to experts, the treatment is great for preventing psychosomatic disorders.
Shiro Vasti: While the word Shiro refers to the head, the word Vasti refers to the process of pooling herbal oils on the head! It is an intensive but effective procedure, one that is of great use in treating a myriad of Vata-related disorders.
Apart from the four head massages and Ayurveda treatments listed above, you can certainly opt for some self head massaging, albeit using medicated Ayurvedic oils.
According to some experts, a therapeutic head massage once every fortnight is enough to keep your doshas in balance. It would also rejuvenate the scalp and the head. But, if it isn't possible for you to visit an Ayurvedic practitioner regularly, you can try self-massaging your head to bring you some relief. That said, before going about it, you must first determine your Prakriti and find the doshas that need to be addressed.
Some common benefits of Indian head massage
Stimulates hair growth
Promotes sound sleep and resolves sleep deprivation
Reduces headaches and migraines
Relieves one from anxiety and stress
Enhances memory and cognition
Imparts shine to one's mane
Strengthens the nervous as well as the circulatory system
Promotes healthy hair growth
Supports brain functions and brings balance to hormone levels
Key takeaway
Let's face it! Head is by far the most important part of our body and hence, has vital energy points. Thus, using the right Ayurveda treatments coupled with the different Indian head massage therapies available, you can revitalize your higher Chakras – mind, body, and spirit. These are also great for bringing about a balance to your biological forces – Vata, Pitta, and Kapha.
Want to know more about Indian massages and Ayurveda? We are here to help! Feel free to comment below and let us know what you'd want to learn about.