Popular Treks To Do In Ladakh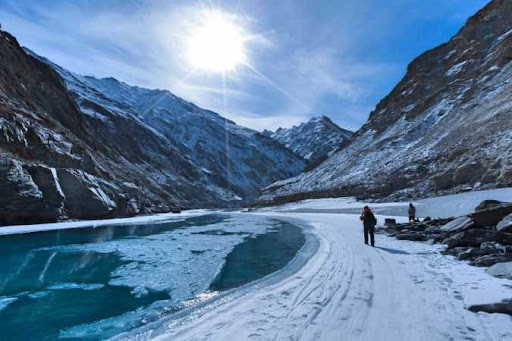 Ladakh is undoubtedly one of the most popular trekking destinations in India. Being one of the northernmost points in India and having high altitude mountains, many trekkers and tourists throng Ladakh to seep in nature and the culture here. The Union Territory is known for its cold deserts that are surrounded by high barren mountains. The Indus River and valley after which India is also present here. There are many treks that one can do when in Ladakh. Some of the popular treks are mentioned below:
Markha Valley Trek
Highest Altitude: Kongmaru La Pass at 17,100ft
Trek distance: 65km
Number of Days: 6-7
Trek Difficulty: Moderate-Difficult
If you were to visit Ladakh for a week then the Markha Valley would be the best option for a trekking experience for you. This is so because this trekking trail takes you through some of Ladakh's most special areas and gives you a general look at how the entire region is. When you move from valley to valley surrounded by arid and cold mountains which are surprisingly not snowy but barren and rocky instead, you will see for yourself what you have been seeing on those brilliant social media photos of Leh and Ladakh.
To briefly describe, in this trek you will start from Chilling village which is 50km from Leh, and move into the valleys alongside the river Markha over the course of the next week. You will pass through and stay at many of the villages that offer cozy homestays. Markha village is the most populous on the entire trip. Towards the end of your trek, you will be able to see Kang Yatse mountain peak as you approach Kongmaru La pass. You will gradually be gaining altitude till you reach Kongmaru La. Upon reaching there, you will feel a sense of accomplishment and you will also be rejoicing in the views of the Indus valley and neighboring Ladakhi mountain ranges.
It is after Kongmaru La that you will experience one of the most difficult descents. It is steep with rocky terrain and stretches for kilometers down. This is the reason you should ideally do your descent in two days instead of one. Your descent will take you to Shang Sumdo from where you will return to Leh by road. This entire trek falls within the Hemis National Park.
Chadar Trek
Highest Altitude: 11,480ft
Trek distance: 105km
Number of Days: 8
Trek Difficulty: Difficult
Chadar Trek is the name of the frozen Zanskar river trek which is done mostly during the late winter season. The term "Chadar" refers to a blanket which is what the river looks like when it freezes completely due to the cold and sub-zero temperatures which can reach up to -30 degrees.
It is one of the toughest treks in India because of the frigid temperatures and the remoteness of the trail. There are literally caves for you to rest on the trek. Apart from the walkable frozen river, the other major attraction of the trek is a giant frozen waterfall in Nerak. It looks nothing less than a dreamy scene with the once waterfall formed as a collection of ice spikes. There are many other smaller frozen waterfalls as well.
This trek is best experienced during peak winters of February and March when the lake freezes completely.
Stok Kangri Trek
Highest Altitude: 20,180ft
Trek distance: 40km
Number of Days: 8-9
Trek Difficulty: Difficult
Stok Kangri is the name of the summit in the eponymous trek. It is the highest trekkable peak in India. Not anyone can do this trek for you will have to have an experience of at least one trek.
When atop the Stok Kangri summit, you can get splendid views of the Karakoram range and Zanskar range. Only if you are very well acclimatized then it can take you as few as 4 days to finish this trek otherwise it will take 8 to 9 days to finish.
Unfortunately, this adventurous trek has been closed for the years 2021 and 2022. Be on the lookout as it may open next year.
Nubra Valley
Highest Altitude:18,300ft
Trek distance: 41km
Number of Days: 8-10
Trek Difficulty: Moderate to Difficult
Also referred to as Ldumra valley but more famous as the valley of flowers, the Nubra valley is one of the northernmost points of India. It is said that it once acted as a transit for the silk route. The trek has everything that Ladakh has to offer. From the green barley fields to the arid deserts of Ladakh where you can even find sand dunes. Another highlight of the trek is the Bactrian camels upon whom you can ride. You will also be using the world's highest motorable road of Khardung La at an elevation of 5,602m. The pristine turquoise-colored Pangong lake which is located at an altitude of 4268m will certainly take your breath away.
The trek starts from Leh, then proceeds towards Khardung La where you will trek to Hunder Dok followed by a trek to Sumdo Dok. After Sumdo Dok you will trek Thanglasgo and then to Lasermo La base after which you will start descending to Phyang Phu. From here you will trek to Morobuk and then you can wrap up the trek by driving to Leh.