Best Popular Treks In The Himalayas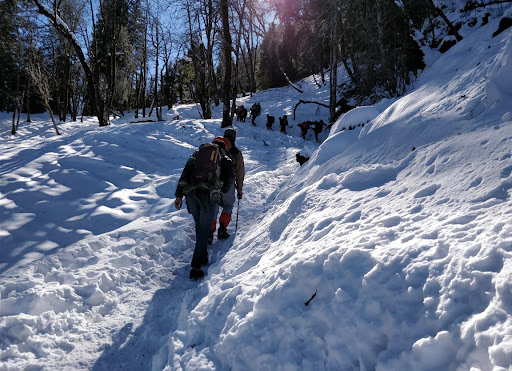 The Great Himalayas have truly blessed India not only with their protection and ecosystem, they give us trekkers some of the best trails in the whole wide world. Stretching from Ladakh in the north to Arunachal in the far east, there are countless treks that are all worth dying for.
Roopkund trek
State: Uttarakhand
Maximum Altitude: 4800m or 15,750ft
Trek Distance: 53km or 33miles
No. of days: 9
Difficulty Level: Moderate to Difficult
Seasons: Summer and Autumn
Roopkund Trek, for any real trekkers out there, is the best trek ever. It has everything a trekker looks for: a green trail, a snowy trail, sceneries filled with trees both bearing fruits and the likes of oaks and pine, and to top it all, there is a super-mysterious lake with human skeletal remains. Truly, this trek is a walk-in paradise. The Ali and Bedni Bugyals look like a picture straight out of someone's desktop wallpaper.
It is an 8 to 9-day trek with Lohajung as the base camp. From there, you will trek towards Gehroli Patal and then to the beautiful Bedni Bugyal. From Bedni you will go to Ali Bugyal and will be doing an excursion on the Bedni top. From there you will head to Patar Nachauni to Bhagwabhasa and finally to the Roopkund lake. After this, you will be returning along the same trail till you reach Wan from where you will be driving back to Lohajung.
Kedarkantha Trek
State: Uttarakhand
Maximum Altitude: 3800m or 12,500ft
Trek Distance: 20km or 12.4miles
No. of days: 6
Difficulty Level: Easy
Seasons: All except monsoon
Known in the trekking circles as the 'Queen of Winter Treks' in India, you cannot miss the kedarkantha trek. It is located inside the Kedarnath Wildlife Sanctuary and so there is plenty of flora and fauna to look at. It is an easy trek that offers more rewards to your plate.
The starting point of this trek is from Sankri village which has its heritage dating back to some 300 years. You can stay in the homestays of the village among the hospitable villagers. You will leave the village for Juda-ka-Talaab, which is a lake that has mythological stories about it. According to one, it was formed when Lord Shiva was thirsty. Out of thirst, he pulled out a hair strand from his wet bun, and that led to its creation. You will be camping near the lake and will set out for the Kedarkantha base camp the next day. On the day of the summit, you will leave base camp by 2 am to reach the peak on time. This is the best part about the entire trek.
Deoriatal-Chopta-Chandrashila
State: Uttarakhand
Maximum Altitude: 3,609m or 12,100ft
Trek Distance: 44km or 27miles
No. of days: 3-4
Difficulty Level: Easy to Moderate
Seasons: All except Monsoon
Located in Rudraprayag, Uttarakhand, is a meadow known as Chopta which is so beautiful and secluded that recently it has seen many footsteps arrive at its doors. Chopta is more famously known as the 'Mini Switzerland of Uttarakhand' and rightly so. The trek usually begins at Sari village from where you will be trekking to the Deoriatal lake. From the lake you can view Chaukhambha, Neelkantha and Kala Naag peaks. You will then drive to Chopta village and then start your trek towards Chandrashila. Chandrashila is a peak and there are two important landmarks to be covered here. First is the Tungnath temple which is one of the Panch Kedarnath shivling of Uttarakhand. It is the highest Shiva temple in the world.
From Tunganath, you will climb further to the peak of Chandrashila. At the summit you will find a temple dedicated to Goddess Ganga. The view from atop is amazing with the Chaukhamba massif in site along with Nandadevi and Bandarpoonch.
Goechala Trek
State: Sikkim
Maximum Altitude: 4602m or 15,100ft
Trek Distance: 75km or 46.6miles
No. of days: 10
Difficulty Level: Difficult
Seasons: Summer and Autumn
The Goechala Trek is a very difficult trek in all senses of the word 'difficult' as it is a very long and tiring trek, has difficult trails and a mountain climbing trek but still trekkers keep coming for it. The reason being, it offers the closest and unbeatable view of the Kanchenjunga peak, which is the world's third highest mountain peak.
All through the 10 days you will endure subzero temperatures, harsh but beautiful terrains but once you reach the summit, all your tiredness goes for a toss as you find yourself face-to-face with the mighty Kangchenjonga. Not just these 13 other peaks some of them are amongst the tallest in the world.
Hampta Pass Trek
Located in the Kullu Valley, the Hampta Pass trek is one of the most popular tours due to its ever-present beauty. Not only do you see the green landscapes but also the snow-covered landscapes that look great on nature lovers. Undoubtedly, it is one of the best hiking destinations in India and given the fact that it offers some amazing views, it attracts a few trekking enthusiasts every year.
Height: 2,987 m
Route: Chika – Balu Ka Ghera – Siagoru – Chatru – Chandratal
Highlights: View of Chandratal Lake, rivers, meadows, and snow capped mountains