8 Ideas To Achieve A Perfect Parisian Home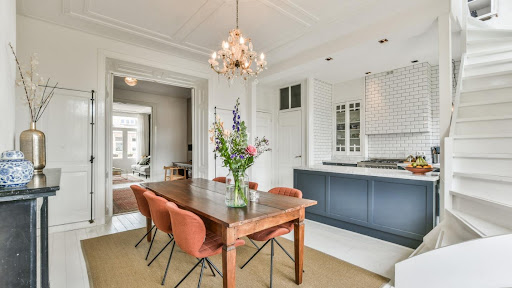 If you're looking to achieve that Parisian look in your home, you're in luck! We've gathered a brief list of 8 ideas to help you get there. We've got you covered from choosing the right furniture and decor items to adding area rugs and accessories. Please sit back, chill out, and let us show you how to build the ideal Parisian dwelling!
A Parisian home is all about creating a certain je ne sais quoi. And while that might sound daunting, it's not as difficult as you think. With a few key pieces and the appropriate Parisian-inspired décor, you can easily turn your space into something straight out of the City of Lights. The color, pattern, style, etc., you choose for your furniture and decor will play a big role in creating the Parisian vibe you're going for. But don't worry, we've got you covered there too! Read on for our top Parisian home decorating tips.
1. Dreamy Touch For The Walls
Parisian apartments are notoriously small, so make the most of your space by painting the walls a light color. It will help to make your room bright and make it seem larger. We recommend a soft white or pale blue for that quintessential Parisian look. A soft white wall with pale blue accents is the perfect way to bring a little Parisian charm into your home. Choose patterns like stripes or polka dots to add Parisian flair for a dreamy look. Choose pale blue stripes or polka dots on a white background to add Parisian flair. This blue and white dreamy combination is perfect for a Parisian home. With this wall, you can add curtains in a matching blue or white pattern to give the illusion of a Parisian balcony.
2. Flooring Is Key
Another important aspect of the Parisian design is the flooring. Many Parisian apartments have hardwood floors but go for a light-colored carpet or rug if you don't have that option. The flooring of a Parisian home is one of the most important aspects of achieving the perfect Parisian look. Parisian homes are also known for their signature details, like crown molding and herringbone floors. You can even opt for rugs such as neutral rugs to easily achieve the Parisian look in your home.
3. Furniture That's both Practical and Pretty
Paris is all about effortless style, so your furniture should be practical and pretty. Look for pieces that can do double duty, like a coffee table that doubles as a storage ottoman. Multi-purpose furniture is key in a Parisian home. A Parisian home is all about the details, so don't forget to accessorize. Area rugs, throw pillows, and light fixtures are important elements in achieving that perfect Parisian look. A typical Parisian home has a neutral color palette with pops of color throughout. So opt for furniture pieces and decor items in neutral tones, and then add in splashes of color with area rugs, throw pillows, and other accessories.
4. Lighting Is Everything
When it comes to Parisian design, lighting is everything. You want to be sure that the space has a lot of natural light. If you don't have many windows, consider adding some skylights or solar tubes. Parisian homes are also known for their chandeliers. If you don't have a lot of natural light, then make sure to add some Parisian-inspired lighting fixtures to brighten up the space. Besides natural light and Parisian-inspired lighting fixtures, you also want to make sure that you have a lot of mirrors in the space. Mirrors help to brighten and open spaces by reflecting light.
5. Curtains And Window Dressings
Another important aspect of achieving a Parisian look in your home is to pay attention to the curtains and window dressings. Parisian apartments are often filled with light, so it's important to choose window treatments that allow a bunch of light to enter the space. Sheer curtains are a popular choice for Parisian apartments, as they allow for plenty of light to enter the space while still providing some privacy.
6. The Right Color Scheme
When choosing a color scheme for your Parisian home, consider what colors are typically associated with Paris. Whites, blacks, and grays are all good choices. You can also add in a pop of color with accent pieces. Red is a popular choice, as it is the color of the French flag. But Parisian homes are soft and romantic, so don't be afraid to use pastel colors.
7. Parisian-Style Decor
Of course, no Parisian home would be complete without some Paris-themed decor. Look for items that feature the Eiffel Tower or other Paris landmarks. You can also find plenty of Paris-themed art to hang on your walls. Paris is known for its beautiful architecture; incorporate some statement pieces that reflect this. A fireplace is a must-have in any Parisian home. If you're not lucky enough to have an actual fireplace, you can always choose a decorative one.
8. Textured Accents
Paris is a city of texture and contrast. You'll find plenty of stone and brick buildings and wrought iron details. To reflect this in your Parisian home, look for furniture and decor items that feature these textures. Wrought-iron light fixtures are a must-have, and you can also find area rugs that feature stone or brick patterns. You can find rugs at stores like RugKnots that reflect Parisian style perfectly. Parisian homes are all about the details, so choose furniture and decor items that reflect this. Choose clothing that is both fashionable and useful. A well-designed coffee table is a must-have and can be utilized for storage and decoration. Look for pieces that incorporate interesting details, such as carved legs or inlaid wood.
In Conclusion
In short Parisian homes are all about simple elegance focusing on high-quality materials and finishes. Keep these suggestions in mind when decorating your own home, and you'll be well on your way to achieving the perfect Parisian look. Merci beaucoup!
So that concludes our list of eight ideas to assist you in creating the ideal Parisian house. You may transform your area into a stylish and inviting haven with a little work. Do you have any tips to add? Convey them with us in the comments down below!